KVM Switches for DVI video, USB mouse and keyboard, audio, microphone and two USB 2.0 hub ports
Support the DVI interfaces of type DVI-I (digital+analog) and DVI-D (digital)
Models for 2 computers and 4 computers
Provide crisp and clear digital video, support also analog video
Can switch audio and microphone
Permit to share two extra USB devices independently of the KVM
Firmware in Flash for easy upgrade
One-year warranty and free technical support
These KVM switches implement the DVI interface technology for digital video. They provide crisp and clear digital image for design, entertainment or gaming. They are intended for high profile users who desire all the benefit of KVM switching plus sharing high-speed 2.0 USB devices such as for example printers and video recorders.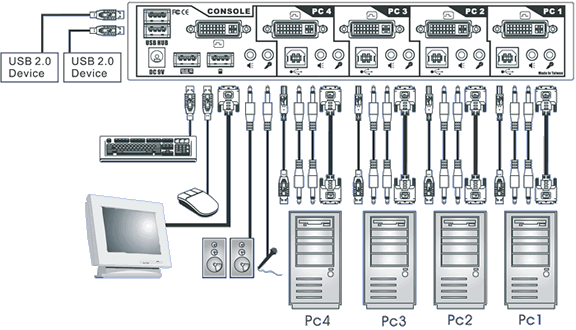 The firmware is can be upgraded. We provide new firmware whenever we can enhance compatibility or functionality.
Prosum provides a two-year warranty.
Computer Ports

2/4 , according to the model.

Computer Port Connectors

2/4 x USB (keyboard and mouse)

2/4 x DVI-I

2/4 x 3.5mm audio socket

2/4 x 3.5mm microphone socket

Local Console Port

1

Local Console Connectors

1 x USB keyboard

1 x USB mouse

1 x DVI-I

1 x 3.5mm audio socket

1 x 3.5mm microphone socket

USB Device Ports

2 x USB 2.0

Computer Selection

Push button (one per port)

Keyboard hot keys (can be selected from among 5 sets)

Scan Delay Time
5 ~ 100 sec. programmable

Video Resolution

1280 x 1024 (digital)

2048 x 1536 (analog)

Power Supply

Can be powered by the USB interfaces only if no USB device is connected, otherwise need an external DC 9V 1A power adapter.

Housing

Metal + plastic front panel

Operation Temperature

0 to 50°C

Storage Temperature

-20 to 60°C

Humidity:

0 to 90%, non-condensing

Dimension(L x W x H)

165 x 103.5 x 45 mm (2-port) / 255 x 117.5 x 45 mm (4-port)

Weight

950g / 700g

Safety / EMI Certification

FCC, CE

RoHS
Yes
The DVI202-AU KVM switches come with the power adapter and a complete set of 1.2m cables.
The DVI204-AU KVM switches come with the power adapter and a complete set of 1.8m cables.
CAB2035

DVI-I

CAB2016

Audio and Mic.

CAB2008

USB type A to type B
Installation Guide